Our R&D capacity |
PHILAGRO, the R&D capacity of three international agrochemistry groups
For PHILAGRO, innovation is underpinned by Research & Development in new molecules derived from its three Japanese shareholder groups – SUMITOMO CHEMICAL COMPANY, NISSAN CHEMICAL INDUSTRIES and NIHON NOHYAKU – which every year invest 10-12% of their worldwide revenue in R&D.
This commitment, fuelled by an unshakable belief in the future of plant protection products, is central to PHILAGRO's vision.
Innovation is useful, necessary and essential for developing sustainable, efficient agriculture.
"It's our job to assess, develop and register new plant protection molecules, derived from chemical synthesis or natural sources, contributed by our three shareholders.
These innovations help to meet the challenge of environmentally-friendly agricultural production and create added value for everyone involved in the agricultural industry, including our industry, distributors and farmers. »
PHILAGRO's plant protection operations involve: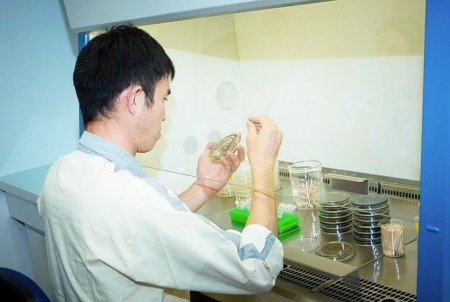 450 trials per year

17,000 micro-plots per year